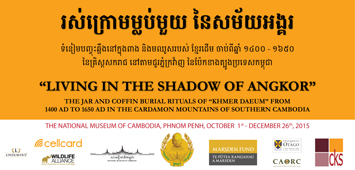 LIVING IN THE SHADOW OF ANGKOR
October 1 - December 26, 2015

The opening of the temporary exhibition entitled "Living in the Shadow of Angkor" explores the results of the research project from 2003 to 2015 in the Cardamom Mountains of the southern Cambodia. This exhibition presents the insights we now have of a people who lived apart from Angkor, the ethnic minorities of the Highlands "Khmer Daeum". The only traces of this culture rests in the archaeological record of their burial rituals in the Cardamom Mountain sites.
The project investigated this ancient Highlands culture practicing the jar and coffin burial ritual by analyzing human bones, the ceramics used for the burials, and other burial artifacts. The project also assembled a radiocarbon chronology of the sites which showed the burial rituals were used between the 15th to 17th century AD, a time coincident with a period of economic, political and social transformations in the lowland Angkorian polity.
The exhibition presents the ceramics and ritual artifacts, site conservation and the radiocarbon dating. Furthermore, we also display the jars, ritual things from some sites, and includes a model of a typical Jar and Coffin rock ledge where wooden coffins and burial jars were placed. There is also a video of the research team activities in the Cardamom Mountains.
This exhibition gives the general public the first opportunity to see the result of this project and of a history of a Highland people whose keep only traces are a singular funeral style secreted way in the caves in the mountains, and why we should focus on the conservation of these sites for the future. This research is a new historical and cultural discovery which is a rich contribution to the Cambodia archaeological history.