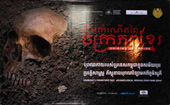 Origins of Empire
July 9 – October 30, 2013

Little is known of the time before Angkor, a time long, long ago. This exhibition, which is on for three months only​​ gives a glimpse of the people who were the ancestors of the great Angkorian empire.
What you see on display – the actual burials and associated goods - is fascinating but is only the beginning of our understanding of the period. Archaeological science will provide much deeper insights into the lives of these people.
Please do not miss seeing this exhibition – on for only three months!
The project has been made possible by close cooperation with the Ministry of Culture and Fine Arts, especially with the Department of Heritage and Archaeology headed by Mr. Ham Kimson and Minister HE.Him Chhem.
The Archaeological teams involved were lead by Dr. Dougald O'Reilly from the Australian National University and Dr.Louise Shewan from Monash University in Australia with the support of the Australaian research Council.