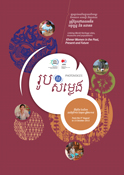 Linking World Heritage Sites, Museums and populations
Khmer Women in the Past, Present and Future
August 5 - October 15, 2015


From 2011 to 2014, UNESCO and six World Heritage sites in Cambodia, Viet Nam and Laos developed an unprecedented sub-regional collaboration called 'Our Common Heritage: Exploring World Heritage sites of Cambodia, Laos and Viet Nam' by producing a sub-regional exhibition and related education programme. While this first phase of the project, generously funded by the Japanese government, placed its primary focus on historical interaction of these sites concerned, the present second phase is seeking more active engagement between museums and communities which are both situated in and around the concerned World Heritage sites.
The present exhibition, conceived by application of action research method called 'Photovoice', was designed and produced with active participation by seven local villages located within the protected zones of the Angkor site. We are pleased to make their voices heard, echoing their everyday concerns, joy and hope for a better future. Uninterrupted currents of lives, of women and men of Angkor, have sustained the soul of this exceptional site.