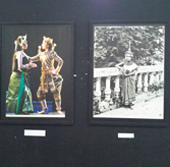 Royal Ballet : Then and Now
March 1 - April 30, 2015

History
The Royal Ballet is known to be one of Cambodia's oldest and most sacred art forms. Its origins can be traced back to ancient times from between the 1st to 6th century (Funan or Norkor Phnom Kingdom) when sacred dancers were considered as a link between the Earth and Gods whom they communicated with through their dances. It was also known as the Robam Kbach Boran or Lakhaon Loung.

The Royal Ballet made its first journey abroad as part of the Court of King Sisowath and performed in front of a French audience in 1906. This episode gave birth to a new perception of the Royal Ballet that would later be developed by Queen Sisowath Kossamak Nearireath. While the Ballet had always been performing exclusively in ceremonial contexts inside Cambodia, it was to become a means of displaying the cultural magnificence of the Cambodian Kingdom to the world. With the achievement of Cambodian independence in 1953, King Norodom Sihanouk's mother Kossamak Nearireath gave a new impulse to the Ballet. She created a number of ballets and set up a new model of performances intended to be easily shown to the national as well as international public. The Ballet thus became a symbol for Khmer culture and the Cambodian nation.