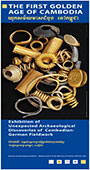 The First Golden Civilization of Cambodia
"Exhibition of Unexpected Archaeological Discoveries from Cambodia-German
field Work " Phnom Penh, National Museum of Cambodia.


The Commission for Archaeology of Non-European Cultures of the German Archaeological Institute (DAI) in cooperation with the Memot Centre, Ministry of Culture and Fine Arts has exhibited recent finds from the Iron Age cemetery at Prohear, Prey Veng province since 29 November 2010 at the National Museum in Phnom Penh.

In addition to hundreds of small finds such as 150 of the most significant individual works of the German-Cambodian excavations in Prohear village and additional finds from Kompong Cham at village 10.8 are shown. The highlight is the presentation of the excavation of the grave situated at Prohear - one of the richest prehistoric assemblages that has been excavated by archaeologists in Southeast Asia (more details on the DAI project page). A particular concern and a major focus of the exhibition and the booklets is to illustrate sites that have suffered irreparable loss to the history of Cambodia due to grave robbers and dealers.
This exhibition is the first large-scale permanent presentation of an international-Cambodian project at the National Museum of Cambodia and was only possible through financial support from the German Embassy, Phnom Penh and cultural preservation program of the Foreign Office. Design and structure, Andreas Reinecke (KAAK) and Vin Laychour, Heng Sophady and Seng Sonetra from the Memot Centre,Ministry of Culture and Fine Arts in Cambodia.

http://www.dainst.org/index_126569e8ebba14b54846001c3253dc21_en.html
(In English)
http://www.dainst.de/index_a1bf47a7dfd714cf6752001c3253dc21_en.html
(In German)