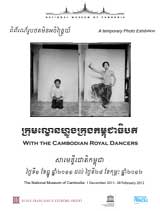 With The Cambodian Royal Dancers
December 1, 2011 - February 28, 2012

In 1927, believing that the Royal Ballet was endangered, George Groslier, Director of the National Museum, decided to preserve the memory of the ballet by initiating a remarkable work of photographic documentation. Five principal women dancers - Nou Nâm, Ith, Anong Nari, Kieuvan and Suon - represented the four primary roles of the classical canon: the male role (Nearong), the female role (Neang), the monkey role (Sva) and the giant (Yeak); sometimes in duos, repeating the postures and gestures as they were recorded by the photographer. The result of this work is a fantastic collection of glass negatives with two images by plate.
Forgotten and left in adverse conditions; making preservation a challenge, this unique collection was recently re-discovered, catalogued, restored and digitized.
The dancers appear in rehearsal costumes which lend a special authenticity to the images, along with a profound emotional quality.
At the initiative of the French School of Asian Studies (EFEO), the pictures are exhibited for the first time in the same location where the images were shot, at the National Museum of Phnom Penh.